Access the DNS Manager
Log in to your account at www.networksolutions.com by clicking the Manage Account icon.
In the left navigation bar, open the nsWebAddress (Domains) menu by clicking the + icon.
Click Manage Domain Names.
On the Domain Details page for the domain you want to update, select the Designated DNS radio button (to the right of Change domain to point to) and click the Apply Changes button. If you've previously modified your advanced DNS settings, click Edit (to the right of Domain currently points to).
Under the Advanced DNS Manager heading, click Manage Advanced DNS Records.
Back to top
Create a SPF record
Under the Text (TXT Records) heading, click Add/Edit.
Enter @ (or your subdomain name, e.g. "mail" for "contact@mail.example.com") in the Host field.
Enter your SPF record (e.g. "v=spf1 a mx ~all") in the Text field.
Review your changes and click Save Changes.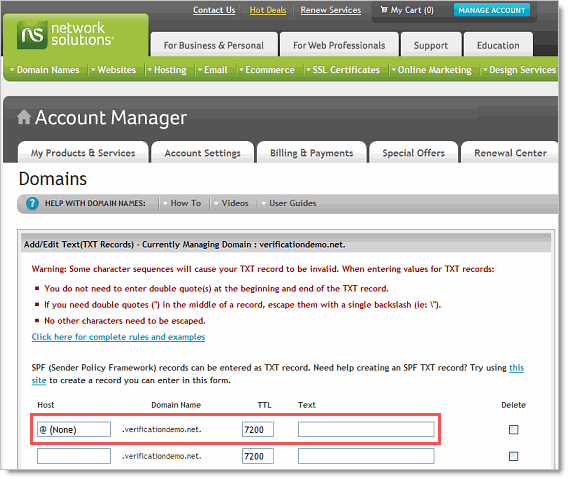 Back to top